Endcap main features :
In order to insure long term stability of fluoride fiber systems in case of applications such as laser generation or Er-YAG laser delivery, LVF offers end capping solutions.
These endcaps exhibit two benefits:
Reducing power density at the endface for high power generation
Protecting the fiber tip in case of emission around 2.8 µm: when exposed to this wavelength range, water vapor might react with the fiber surface and induce a degradation of your fiber system performance.
Those end caps can be delivered on bare fiber or integrated in fiber patch cables depending on your requirements.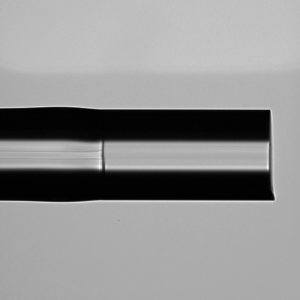 LVF also provides fluoride fiber splices between multimode, single mode or double cladding fibers on request.
Silica-fluoride splices :
Splicing
fluoride glass fibers and silica fibers is a critical poi
nt for manufacturing all fiber
ed
laser modules. As these materi
als are extremely different, various problems must be considered
: thermal,
expansion, mechanical, chemical.
R
eliability and power handling make priority concerns.

It now has been demonstrated by several labs that isplicing silica and fluoride fibers is challenging, but possible.

Le Verre Fluoré has also recently developed a process that makes it possible to obtain robust and reliable thermal splices between silica and fluoride fibers.
Find below some information about this :
Need information and help for splices and end caps: