Mid-IR supercontinuum laser technology
For infrared countermeasures and other applications
Since 2009, Le Verre Fluoré has been pioneering in development of a range of mid-IR supercontinuum laser solutions. Unique solutions are proposed in order to ensure long term reliabilty and industrial compliance.

Since 2017, Electro-MIR 4100 and 4800 are the commercial supercontinuum sources born from Le Verre Fluoré over 40 years' experience in Fluoride fibers and LEUKOS' over 10 years' experience in the field of supercontinuum laser.
These supercontinuum sources exhibit a high brightness from 700 up to 4100 or 4800 nm. Thus, they are  ideal solutions for mid-infrared applications such as infrared spectrometry, countermeasures (IRCM), spectral fingerprinting…  Robust, compact, reliable, they can easily be integrated in laboratories as well as industrial environments.
Discover their features, specifications and applications below.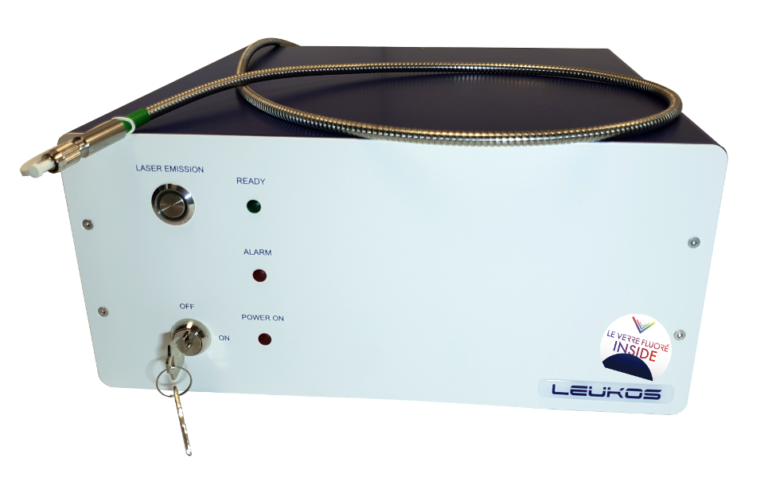 Features
High brightness single-mode IR beam
Outstanding wavelength coverage
Specifications
Wavelength coverage: 700-4100nm (Electro MIR 4100) / 1000-4800nm  (Electro MIR 4800)
Typical output power: >1W / > 500mW
Beam quality: TEM00 Gaussian beam
Repetition rate: 250 kHz
Output coupling: FC/APC connector
Applications
Infrared spectrometry
Infrared countermeasures
Spectral fingerprinting
Hyperspectral imaging
Optical Coherence Tomography OCT
Research and development
Your application
Need information and help for supercontinuum sources :