Le Verre Fluoré can provide any kind of bulk fluoride glasses such as parallelepipeds, ribbons, rods, tubes, prisms…
Those bulks can be homogeously doped or co-doped with rare earths (Er, Pr, Ho, Tm, Dy, Ho/Tm, Er/Pr, Pr/Yb…) depending on your requirements.
Applications
Our bulk fluoride glasses can be used as robust fluorescent solid-state dye, wavelength reference material, light converter, as well as for glass science, study of specific properties of fluoride glasses, in UV, visible and mid-infrared ranges.
Ex.: calibration/detection of UV sources with visible sensors (UV to VIS light conversion), detection of NIR sources (NIR to VIS light conversion), calibration of spectrometers and imagers (spectral calibration: fluorescence or absorption spikes at specific wavelengths)
Contact us to specify your needs.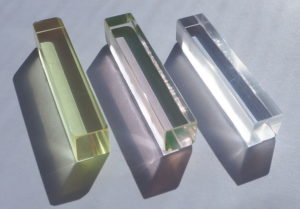 Fluorescent solid-state dye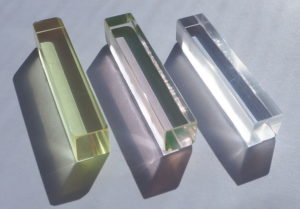 Wavelength reference material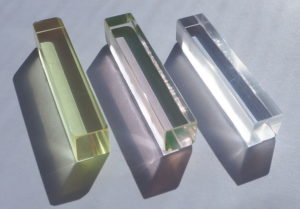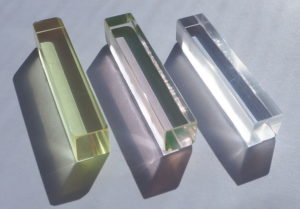 Specifications
• Doping/Co-doping
• Shape/size
• Polishing grade
Fluorescence and wavelength calibration
If you have a special request, please contact our experts!